"Wunnquartier Stade" situé aux abords de la route d'Arlon à Luxembourg
open competition with Arenas Basabe Palacios Arquitectos , Madrid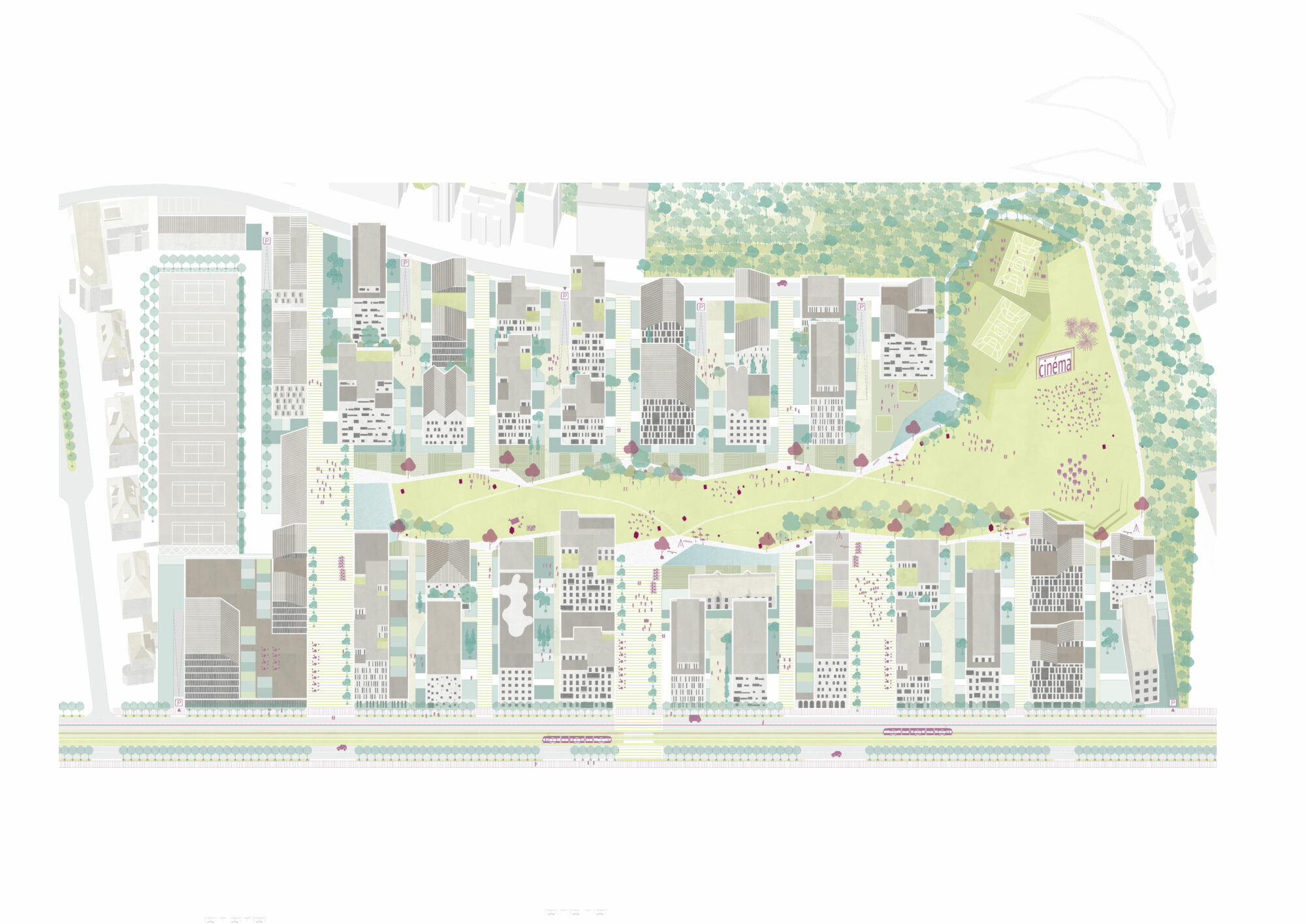 The aim of the competition is to convert the land into a residential area with the creation of varied and affordable housing. In addition to housing, the project will also include local shops, meeting and relaxation areas, kindergartens, a meeting centre, sports facilities, playgrounds, etc., all of which are essential to provide a high quality of life for the future inhabitants of the area.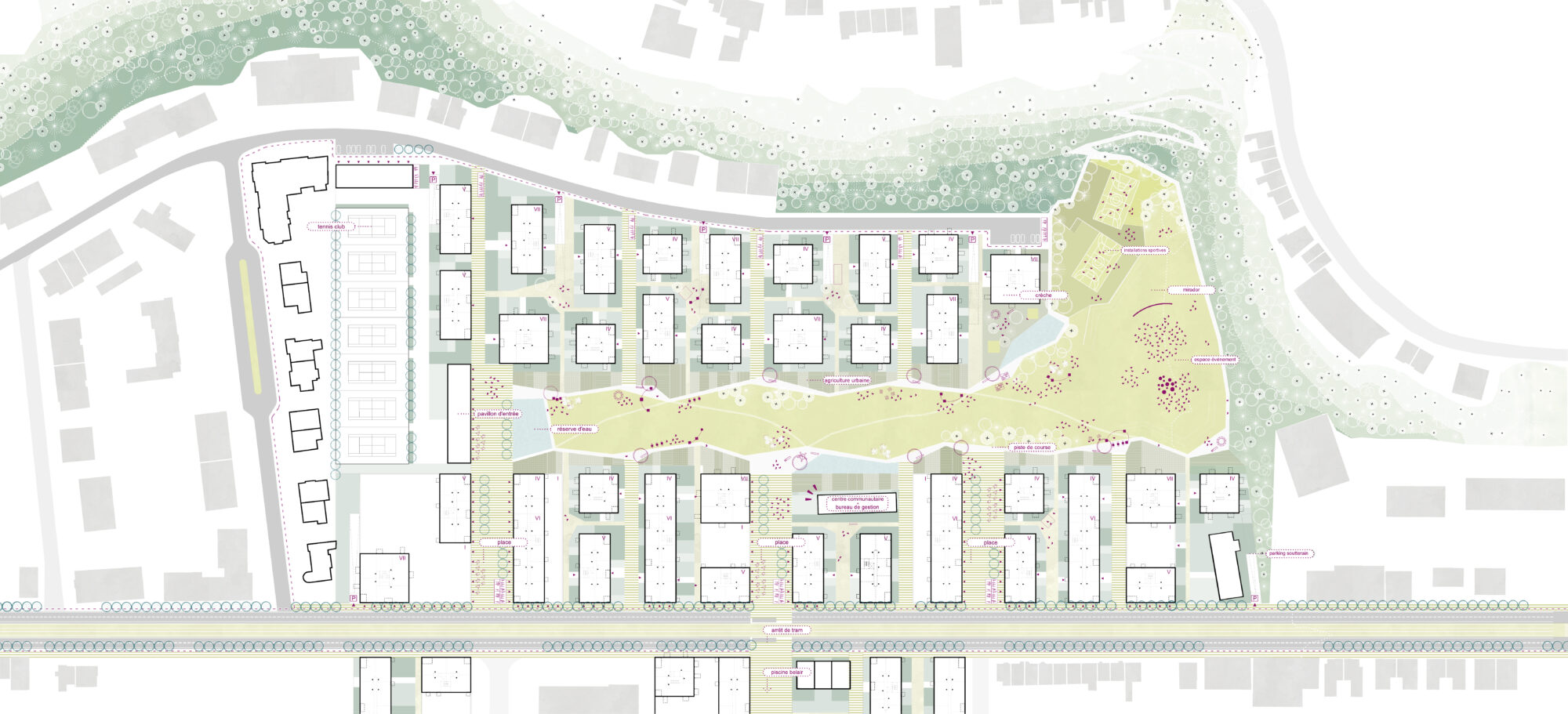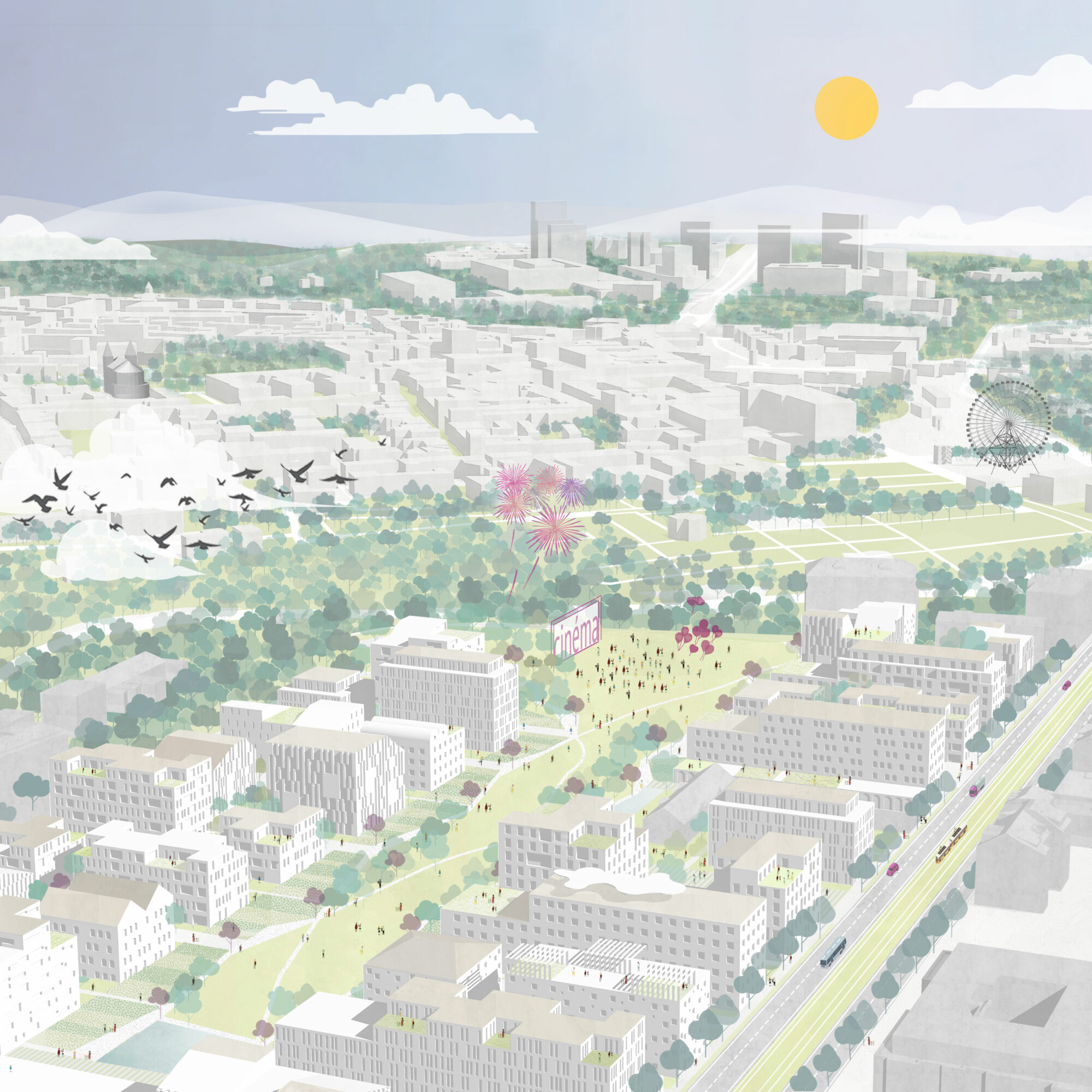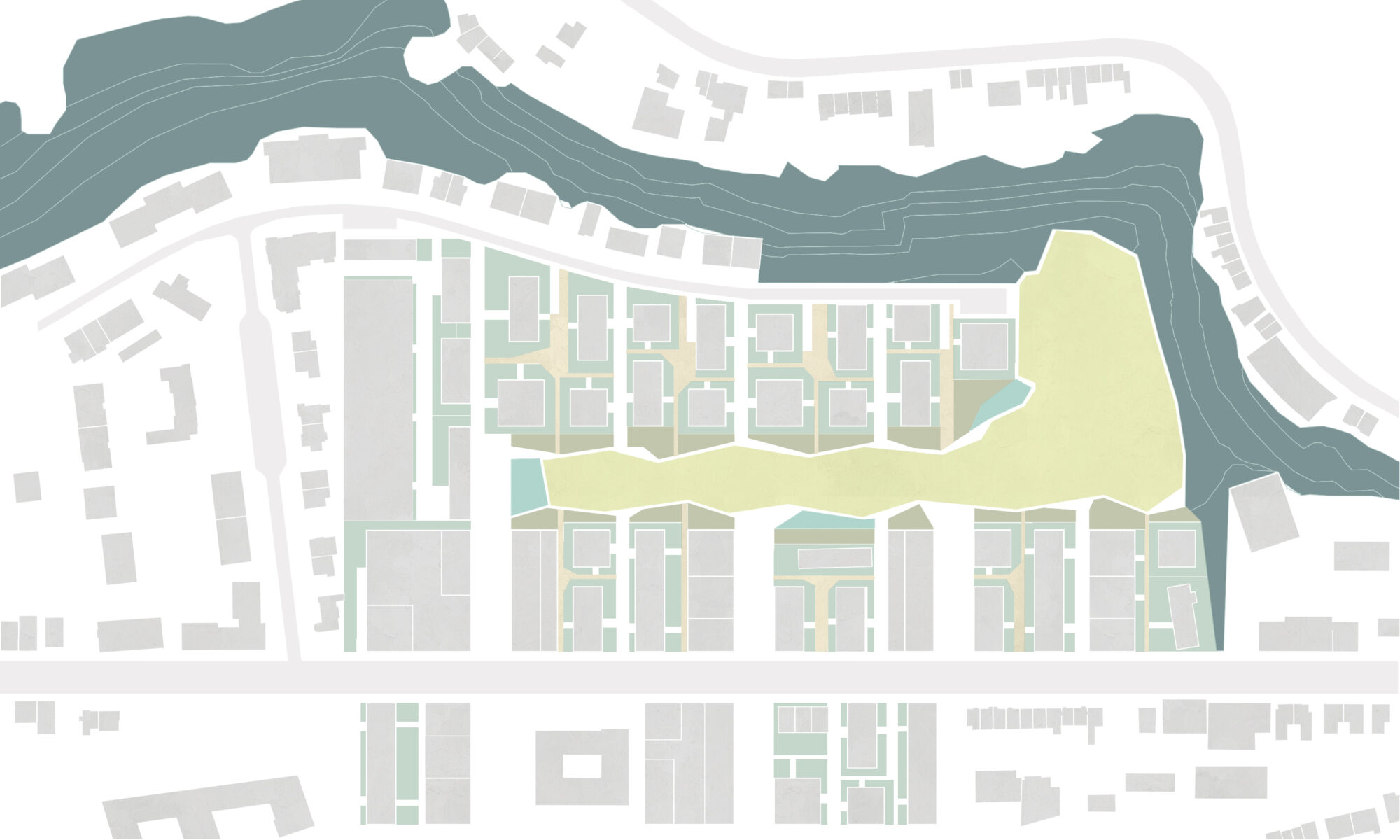 DIVERSITY How to achieve a more sustainable and democratic urbanisation?
The new urban fabric must include different types of housing (size and management) in order to respond to resource scarcity and climate change.
In addition, a supply that includes diverse investment potential and multiple managers makes urbanisation more democratic.
POLES OF ACTIVITY How to define an attractive, central, liveable core within the "Wunnquartier Stade"?
Two areas with sports facilities are designed as two opposing poles of attraction: a fenced tennis campus and a multifunctional open game animate and create a kind of polarisation in the concept of the open spaces and the central meadow.
CAR-FREE NEIGHBOURHOOD What is the role of residents' cars in the new neighbourhood?
The aim is to ensure a car-free neighbourhood. To achieve this, an underground car park with sufficient capacity is planned to enable a car-free neighbourhood, giving priority to pedestrians and with restricted accessibility for cars except for ambulances, fire brigades, etc.
Would a predefined urban fabric be an appropriate response to the development of the Wunnquartier?
No. Instead of a predefined urban fabric, an urban syntax is defined. The syntax defines the density of the Route d'Arlon and Boulevard Napoléon, as well as the maximum heights and the continuity of the built-up facades in response to the central meadow and the adjacent streets.
POROSITY How to achieve a dense neighbourhood while maintaining porosity at the same time?
A respectful ecological footprint is proposed in order to connect disturbed ecosystems. In order to respond to the biocapacity deficit, unsealed surfaces are imposed as much as possible to support the natural evapotranspiration of the land and to guarantee the continuity of the local fauna and flora.
ECOLOGICAL HOTSPOT How can the phenomenon of Ying and Yang react to climate change?
By linking nature and the city in a balanced and equitable way. A meadow on a plateau functions as a green opening for the city. The quality of the green is a counterbalance to the pollution and the concentration of traffic on the Route d'Arlon.
The development implements the good practices of sustainable development of the Agenda 2030.
DIVERSIFIED MOBILITY How can we manage to properly integrate several mobilities with different speeds in a single pedestrian environment?
By a balanced intervention that reduces the presence of cars to a minimum and increases the links between the pedestrian paths and cycle tracks and the access points of the public transport tram/bus/park&ride of the Route d'Arlon.